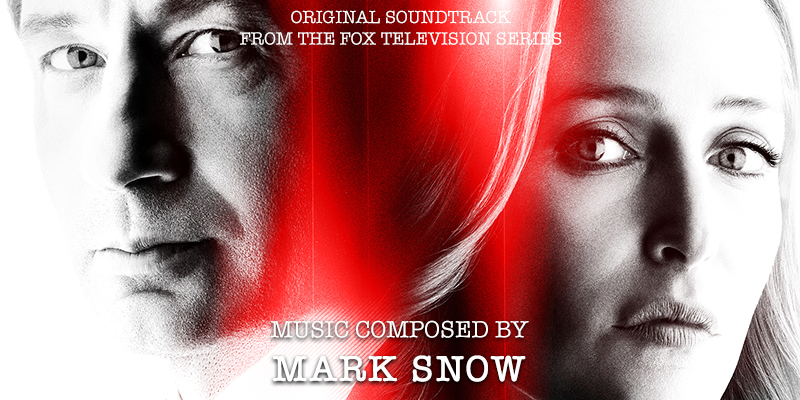 La casa discografica della
La-La Land Records
pubblica oggi il cofanetto della
colonna sonora dell'undicesima stagione di X-Files
.
Sono serviti due cd per far entrare in questo cofanetto tutta la musica composta appositamente da
Mark Snow
per l'ultima stagione televisiva della serie. Potete consultare la
track list completa nella nostra scheda
.
Sarà possibile acquistare il cofanetto a partire da questa sera sul
sito della casa discografica
al prezzo di $24.98.
Per festeggiare questa nuova pubblicazione, la La-La Land Records mette inoltre in vendita a prezzi ribassati i cofanetti di X-Files usciti negli anni precedenti, un'occasione da non perdere se ancora non li avete acquistati.
Di seguito potete leggere il comunicato stampa ufficiale.
THE X-FILES – SEASON 11: LIMITED EDITION (2-CD SET)
LLLCD 1470
Music by Mark Snow
Limited Edition of 3000 Units
RETAIL PRICE: $24.98
STARTS SHIPPING JULY 1
Order at www.lalandrecords.com starting 6/25 at 12noon (pst)
La-La Land Records, 20th Century Fox Television and 20th Century Fox TV Records present the world premiere release of acclaimed composer Mark Snow's (THE X-FILES, MILLENNIUM, BLUE BLOODS) original score to the 11th season of FOX's landmark TV series, THE X-FILES, starring David Duchovny and Gillian Anderson, and created by Chris Carter. The X-FILES' exciting 11th season aired in 2018, with all new episodes – and incredible, all-new original scores from Mark Snow, the maestro who has been responsible for the show's legendary musicscape for its entire run. Snow's familiar, classic motifs expertly meld with new sonic delights, resulting in the unique dynamic blend of atmosphere, drama, warmth and chills that are a signature component of this beloved show. Produced by Mike Joffe and Mark Snow, and mastered by James Nelson, this special 2-CD presentation, limited to 3000 units, assembles the musical highlights from the acclaimed 11th season! Exclusive, in-depth liners by writer Randall D. Larson, with new interview comments from the composer, take you behind the episodes and their scores, while Mark Banning's sharp art design complements this otherworldy release!
TRACK LISTING:
Disc One -
MY STRUGGLE III
1. Recap (0:55)
2. THE X-FILES Main Title (Season 9) (0:36)
3. Carl Gerhard Busch (2:47)
4. The Brain Code Says Find Him/Where's the Boy (7:32)
5. Super Human Experimental Casualties (2:04)
6. Wheels and Squeals (3:04)
7. Broken Promise (3:44)
8. My Enemies Are Legion/All You Had To Do Was Knock (5:23)
9. Heavy Wheeling (8:34)
THIS
10. Russian Dressing (4:40)
11. Fatal Error (6:44)
12. Vacated (0:49)
13. Destroy the Backup (0:21)
PLUS ONE
14. House of Chucky P (1:46)
15. Still Got Scoot in Your Boot (2:12)
16. Unraveling (1:05)
17. Scully Sees Scully (1:30)
18. It's Spreading (1:39)
19. Hanging the Hangman (4:54)
20. In The Realm of Possibilities (0:37)
THE LOST ART OF FOREHEAD SWEAT
21. My Name is Not Buddy (1:43)
22. Rod Serling Appears (0:30)
23. A True Fan (0:25)
24. Dr. Wuzzle (1:02)
25. Dr. Thaddeous They (1:30)
26. The Grenada UFO Stamp (2:26)
27. The Untold History of The X-Files (1:27)
28. Henchmen (0:33)
29. Fox Freakin' Mulder (0:48)
30. Jumpin' (0:13)
31. Reginald Murgatroid (1:25)
32. Straight Jacket (0:18)
33. The Truth From Outside the Galaxy/Answers to Anything (1:08)
34. To Find Each Other (0:58)
35. Remember How It Was (0:31)
Disc One Total Time: 77:22
Disc Two
"GHOULI"
1. Ship-Shapes (2:44)
2. Jackson Van De Camp (1:50)
3. No Browsing History/The Bigger Picture (3:13)
4. Jackson is William (2:00)
5. Jackson's Escape (5:45)
6. Stand for Something (0:51)
KITTEN
7. Davey's Big Knife (0:58)
8. The Boy that Hates Kittens (3:44)
9. The Seeds of Mistrust (4:19)
Rm9sbG93ZXJz
10. Silver Moon/Drone Fever/Batting Practice/
Package/Drone Rescue/Vacuum (3:15)
nothing lasts forever
11. A Tasty Pancreas/I Will Repay (4:01)
12. Loved You on Dragnet (3:06)
13. Olivia Shows Her Love to Barbara (1:06)
14. I Will Deliver (3:58)
FAMILIAR
15. Mr. Chuckleteeth #1 (0:19)
16. Almost Knocked Me Over (3:40)
17. Mr. Chuckleteeth #2 (0:20)
18. The Ritual Burn/Mr. Chuckleteeth (7:18)
MY STRUGGLE IV
19. Recap/My Name is Jackson Van De Camp (5:11)
20. Mr. Y Go Bye (2:51)
21. Jackson's Action (1:44)
22. Arriving at the Docks (4:04)
23. Floating Away (5:30)
24. He Shot Him and He Shot Me (3:56)
25. THE X-FILES End Credits (New Orbit) (0:35)
26. I Made This/20th Century Fox Fanfare* (0:08)
27. The X-Files Theme (a cappella) (1:07)
Performed by The Warp Zone
* - Music Composed by Alfred Newman
Disc Two Total Time: 78:51
Total Set Running Time: 2:36:48
Original Series Score and Fox Fanfare
Published by T C F Music Publishing, Inc. (ASCAP)
MARK SNOW SPECIAL!
We're celebrating our release of X-FILES season 11, with great prices on these other legendary Mark Snow soundtracks!
$40 EACH: X-FILES VOL. 2 (4-CD SET) Only 200 remain! When they are gone, they're gone!
$30 EACH: X-FILES VOL 1 (4-CD SET)
$15 EACH: X-FILES: FIGHT THE FUTURE, X-FILES THE EVENT SERIES (2-CD SET), MILLENNIUM VOL. 2
$10 EACH: MILLENNIUM VOL. 1
Special offer starts at 12 noon (pst) on 6/25 and is good thru 7/8/19
Iscriviti alla nostra
newsletter
per ricevere tutti gli aggiornamenti su X-Files e sul nostro sito.
Non ti intaseremo la casella di posta elettronica, promesso!
Sì, voglio iscrivermi!